Snowshoeing tours or Nordic walking
Another way of walking, accessible to all, following the rhythm of nature...
Snowshoeing and Nordic walking are a perfect way to start your holiday smoothly during the weekend and to make progress in half-day outings throughout the week until Friday. You will live an unforgettable experience!


Nordic walking, for beginners or those wishing to improve their skills, is a nice and healthy activity that will appeal to you! The precise movements with specially adapted poles are practiced on packed snow where low boots are all you need for a good foot movement... The Pilates gym combined with these mountain sessions will help you strengthen your physical and mental well-being!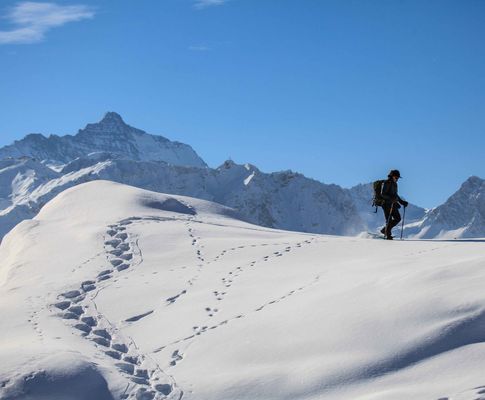 Snowshoeing tours / Nordic walking
OUTINGS
From Saturday to Friday
2h30 : €36

3 hours : €38

Full day : €64 (depends on weather conditions)

Meeting points
Place du soleil
Snowshoes and ski poles provided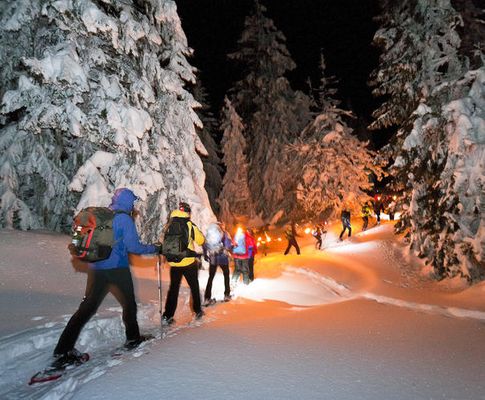 Snowshoeing tours and Savoyard products tasting
OUTINGS - starting at 12 years old
Tuesday and Thursday from 5:30pm to 7:30pm
Looking for a unique experience in the heart of exceptional nature?
Our snowy spaces open their doors to us at nightfall for an unforgettable adventure.
Our professionals will guide you for a safe moonlight outing :
- walks through conifers
- discovering the animals of our mountains
- and Savoyard products tasting
2h : €35 all inclusive

From 4 to 12 people

Meeting points
in front of the ski school chalet
Snowshoes and ski poles provided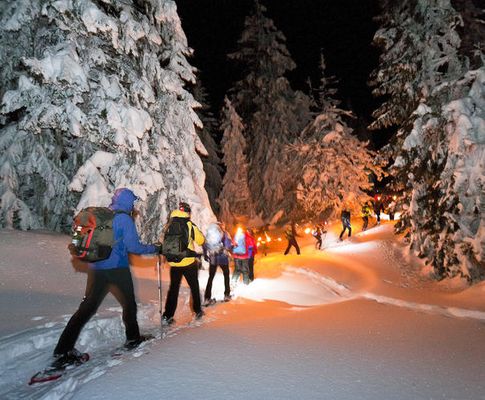 Snowshoeing tours and Savoyard products tasting
OUTINGS - STARTING AT 12 YEARS OLD
Thursday from 5:30pm to 7:30pm
Looking for a unique experience in the heart of exceptional nature?
Our snowy spaces open their doors to us at nightfall for an unforgettable adventure.
Our professionals will guide you for a safe moonlight outing :
- walks through conifers
- discovering the animals of our mountains
- and Savoyard products tasting
2h : €35 all inclusive

from 4 to 12 people


Meeting points
in front of the ski school chalet
Snowshoes and ski poles provided